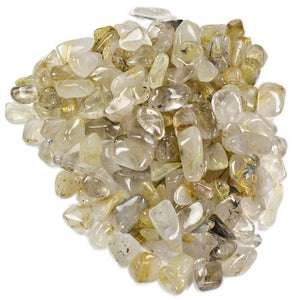 Tumbled Rutilated Tumbled Stones from Brazil - 1/2" to 3/4" Average
These are the Superior Grade of the Hypnotic Gems® brand of Rutile Quartz tumbled stones in our smaller size which are perfect for crafts, decoration, vases, reiki, energy crystal healing and a number of other possibilies limited only by your imagination. These are not the standard commercial grade tumbled stones commonly available but are "AAA" Grade rutile quartz with a remarkable quality. For our superior grade we use a higher quality premium rough and extra tumbling cycles. This increases the stones energy and gives the stones from Hypnotic Gems® an amazing polish and shine!

Metaphysical Properties: Rutile Quartz is an uplifting stone which brings stability in ones life when things may seem chaotic. It improves both mental and physical prowress while giving off an extremely high level of energy to the user. Rutile Quartz helps to infuse joy and bliss while being used for it's calming purposes during meditation. It helps those who work with psychic abilities to enhance them by providing a greater concentration and clarity.

Please note that as earth mined stones there may be some imperfections or blemishes that can still show even after being tumbled. Due to natural characteristics some materials tumble smoother than others. Every piece is unique and all pieces received will not be the exact same size, shape, color or look identical as seen in our images. What we do guarantee is that every piece will be spectacular and contain a strong positive energy that can only be found in the Hypnotic Gems® brand of tumbled stone.