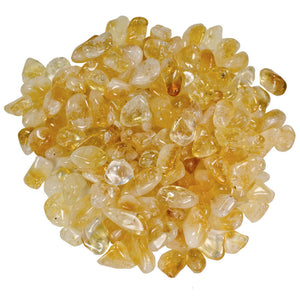 Tumbled Citrine Tumbled Stones from Brazil - 1/2" to 3/4" Average
These are the Superior Grade of the Hypnotic Gems® brand of Banded Chevron Amethyst tumbled stones in our smaller size which are perfect for crafts, decoration, vases, reiki, energy crystal healing and a number of other possibilies limited only by your imagination. These are not the standard commercial grade tumbled stones commonly available. For our superior grade we use a higher quality premium rough and extra tumbling cycles. This increases the stones energy and gives the stones from Hypnotic Gems® an amazing polish and shine!

Banded Amethyst is also known as Chevron Amethyst. This material is a combination of Amethyst and White Quartz which have formed with natural banded patterns. These patterns make every piece unique with distinct brilliance and beauty. Banded Amethyst combines both the stress relieving qualities of Amethyst with the strengthening power of quartz. The stones are helpful in harmonizing the energies of the nervous system and can be used to ease pain and headaches. Banded Amethyst also repels negativity and helps to stop resistance to change.

Please note that as earth mined stones there may be some imperfections or blemishes that can still show even after being tumbled. Due to natural characteristics some materials tumble smoother than others. Every piece is unique and all pieces received will not be the exact same size, shape, color or look identical as seen in our images. What we do guarantee is that every piece will be spectacular and contain a strong positive energy that can only be found in the Hypnotic Gems® brand of tumbled stone.