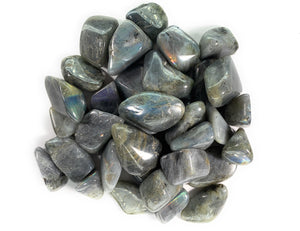 Tumbled Labradorite Stones from Madagascar - 0.75" to 1.5" Avg.
The Hypnotic Gems® brand of Labradorite tumbled stones you are ordering contains spectacular material from an exclusive partnership with a specific mine in Madagascar. When you order you will receive high energy 100% natural stones which have been polished and will look similar to those shown in our images. These are natural earth mined stones which means every stone is unique, and due to the stones natural characteristics even after polishing they may display some minor imperfections such as divots or an unsmooth surface. This is normal and should be expected in the stones you receive.

Metaphysical Properties: Labradorite is a stone of transformation and change which helps to promote feelings of inner worth. It is highly mystical and heightens intuition and enhances psychic ability while protecting against negative energies. Labradorite is used to balance and strengthening the aura, while also sealing it to protect it from energy leaks. It also helps when facing a challenge by providing strength and perserverance until success, and is especially useful when dealing with an addiction or trying to break unhealthy habits.

VERY IMPORTANT: Labradorite when tumbled will only show a color flash in around 40-60% of the pieces and to see this you will need to rotate the stone so the correct angle is being viewed. This is due to how this stone forms in nature and we want to make sure customers are aware of this prior to ordering. All the stones in our images had the pieces turned to the best possible angles to expose the color flash. In addition, with every earth mined stone each piece is unique and all pieces received will not be the exact same size, shape, color or look identical to the stones shown in our images. What we do guarantee is that every piece will be spectacular and contain a strong positive energy that can only be found in the Hypnotic Gems® brand of stone.