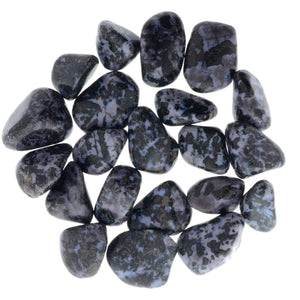 Tumbled Indigo Gabbro from Madagascar - 0.75" to 1.5" Avg.
The Hypnotic Gems® brand of Indigo Gabbro tumbled stones you are ordering contains spectacular material from an exclusive partnership with a specific mine in Madagascar. When you order you will receive high energy 100% natural stones which have been polished and will look similar to those shown in our images. These are natural earth mined stones which means every stone is unique, and due to the stones natural characteristics even after polishing they may display some minor imperfections such as divots or an unsmooth surface. This is normal and should be expected in the stones you receive.

Metaphysical Properties: Indigo Gabbro is a grounding stone that helps one to understand the importance of individuals or events that may have been neglected or disregarded as unimportant. It helps to calm one's mind and assists in preventing violence in both temper and expression. Indigo Gabbro helps to provide a connection to the higher self, and assists in locating energy blockages within the body.

Please note that with every earth mined stone each piece is unique and all pieces received will not be the exact same size, shape, color or look identical to the stones shown in our images. What we do guarantee is that every piece will be spectacular and contain a strong positive energy that can only be found in the Hypnotic Gems® brand of stone.