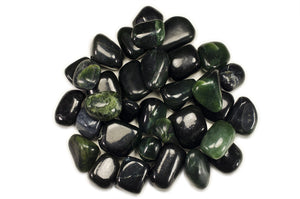 Tumbled Green Kyanite Stones
The Hypnotic Gems® brand of tumbled stones uses only the finest quality high energy rough from specific mines. They are tumbled using a specialized proprietary technique in our own tumbling factory. This technique increases the stones energy and gives the stones from Hypnotic Gems® their beauty!

Green Kyanite is a stone for the heart. It helps to reduce anger and promotes love allowing one to find the truth that lies within oneself, in another person, or in any situation. It is helpful in alleviating depression and bringing happiness into one's life. Green Kyanite is also a growth crystal and helps one connect with nature on a deeper level. It aids in nurturing this connection and is perfect to carry when hiking, camping, biking or doing anything else in nature. Many will put a piece of green kyanite in the soil near a plant to help improve growth.

Please note that as earth mined stones there may be some imperfections or blemishes that can still show even after being tumbled. Due to natural characteristics some materials tumble smoother than others. Our image shows 1 pound of this remarkable material. Every piece is unique and all pieces received will not be the exact same size, shape, color or look identical as seen in our images. What we do guarantee is that every piece will be spectacular and contain a strong positive energy that can only be found in the Hypnotic Gems® brand of tumbled stone.