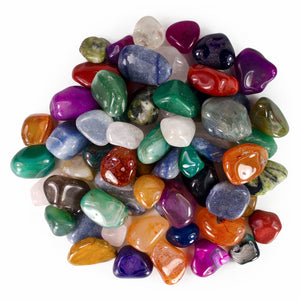 Colorful Natural and Dyed Tumbled Stone Mix - 25 Pcs - Large Size - 1.5" to 1.75" Avg.
This is a random assortment containing 25 pieces of tumbled Brazilian stones from the Polones e Brilho Tumbling Factory (Manufacturer Part Number HG-10-15-DN). The stones can consist of many varieties of natural or dyed stone types including:

Amethyst, Teal Agate, Rose Quartz, Aventurine, Carnelian, Yellow Jasper, Clear Quartz, Purple Agate, Blue Quartz, Nephrite Jade, Pink Agate, Smokey Quartz and more!

Please note that you will get multiple duplicate stone types in your bag and not every one of the 25 stones will be a different stone type.