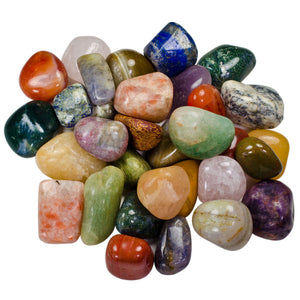 RARE Indian Tumbled Polished Natural Stones Assorted Mix - Medium Size - .75" to 1.25" Avg.
Your order will contain natural stones from India that have been carefully tumbled and polished in a new Indian tumbling factory. The average size of the most stones you receive will be between .75 to 1.25 inch but it is possible to find some stones in your order which may be larger or smaller than these measurements. 
With an Average of 15-23 Pcs/lb
The mix that you receive will contain a variety of common and rare Indian stone types which are mixed at random in giant drums. Some of the stone types you may receive include: Amethyst, Lapis Lazuli, Green Garnet, Sardonyx, Script Jasper, Tree Agate, Rose Quartz, Yellow Jasper, Sunstone, Clear Quartz, Green Aventurine, Carnelian, Blood Red Jasper, Fancy Jasper, White King Quartz, Bloodstone, Camel Jasper, Yellow Aventurine, Blue Aventurine, Black Volcano, Iolite, Pink Jasper, Leopard Jasper, Moonstone, and More! Over 40 different tumbled stone types are used when making this mix and we want customers to be aware that not every stone type listed will be in every bag, and you may receive some stone types that are not listed in your bag. Due to being mixed in large drums then scooped into bags equal to the weight purchased it is possible to get some stones repeated in your order.
These stones are perfect for jewelry, crafts, home decor, education, and many other purposes limited only by your imagination.