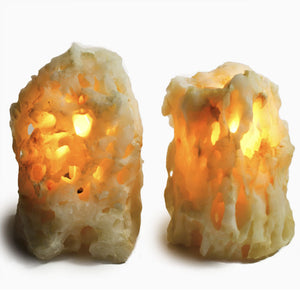 Pack of 2 Premium Quality Sponge Calcite Lamp with Cords and Light Bulbs
The Hypnotic Gems® brand of Premium Calcite Lamps starts with high grade natural sponge calcite from a specific mine that we have partnered with in Mexico. This is a rare variety of white calcite which has the appearance of a sponge due to the way that it naturally weathered in the earth. Each piece is carefully selected for quality and then the center is hand drilled to allow for a bulb to go inside. When you order you will receive one of these spectacular lamps which sits firmly on a wooden base which is similar to the lamps shown in our images. Because each piece is a natural wonder, every piece is unique and no two are exactly alike. When unlit the lamp is a beautiful white calcite and once lit up it emminates a warm and serene amber orange colored glow that helps to light the room.

The average height of these lamps is around 6" but it is possible to get a lamp a little bigger or smaller than this height since each one is natural from the earth and they aren't man made to a specific size on a machine. Our photographs were taken in a dark room so you can see the beautiful orange glow of the lamps. In daylight when the light is turned off the lamps are a natural white calcite color.