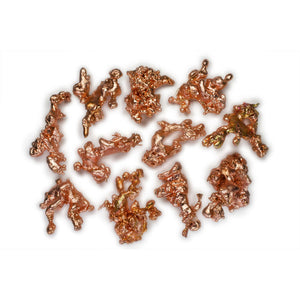 3 pcs of Small Sculptured Copper - Avg 1.25" to 1.75" - From Michigan - Raw Sculptured Copper Metal Specimens
The Hypnotic Gems® brand of Sculptured Copper is hand crafted using only native Michigan copper which is heated to 2200 degrees then poured into water soaked straw. The straw forms these unique and beautiful shapes then burns away allowing the copper to forms to solidify in the cool water. When you order you will receive one of these beautiful unique copper sculptures which is perfect as a gift, to use as a paper weight, as a centerpiece, for reiki, crystal healing, or as a spectacular decorative metal sculpture in a curio cabinet!



Metaphysical Properties: Copper is a grounding metal which also helps balance one both emotionally and physically. It is an energy amplifier and smoothly transmits energy to the holder while helping to bring that energy to every cell assisting them in remembering the original state of perfection. Copper is also used to help transfer knowledge from the higher realms into both the conscious and subconscious mind. It is helpful with all types of spiritual purposes and allows one to draw upon a higher power and communicate love and compassion to others.

Hypnotic Gems takes great care in selecting this natural Michigan copper to ensure every piece will be spectacular and contain a strong positive energy that can only be found in the Hypnotic Gems® brand of stones and metals.