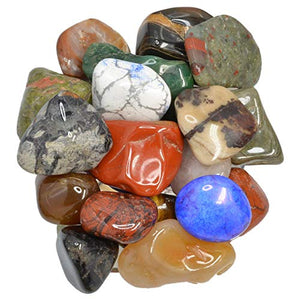 Rare Assorted Tumbled Stone Mix from Africa - Large - 1.25" to 1.5"
Hypnotic Gems is known worldwide for their commitment to excellence and American pride in our workmanship and quality. This dedication shows in every one of these tumbled stones which begin with hand selected top grade rough that is polished in a custom tumbler under strict supervision to bring out the wonderous beauty in each piece. Our polishing technique provides a brilliant shine and brings out the materials colors and patterns with an unsurpassed quality. These stones are perfect to use as vase filler, fountains, art and craft projects, jewelry making, crystal grids, energy healing, home decor, flower pots, terrariums, reiki and more! The average size of most stones you will receive is between 1.25" to 1.5" (this is only an average, some pieces may be smaller or larger).

Some of the over 40 stone types used in this mix include: Red Tiger Eye, Amethyst, Apricot Quartz, Silver Leaf Jasper, White Howlite, Banded Jasper, Dragon Stone, Black and Cream Chert, Bloodstone, Voegesite, Sodalite, Blue Chert, Chevron Amethyst, Carnelian, Brecciated Jasper, Dark Purple Amethyst, Epidote, Fine Line Agate, Picture Stone, Nguni Jasper, Flower Jasper, Gold Tiger Eye, Green Chalcedony, Rose Quartz, Green Chert, Red Jasper, Grey Botswana Agate, Red Lined Agate, Guinea Fowl, Rainbow Jasper, Red and White Jasper, Red Carnelian, Satin Leaf Jasper, Snowflake Epidote, Unakite, Speartite, Dyed Blue Howlite, Unpolished Turquenite, Wine Red Quartz, Blue Tiger Eye and MORE!

While this mix is made with over 40 different stone types, it is mixed in bulk so you will not receive every type in each order, and you will likely receive duplicates of some of the stone types in your bag. Every stone is unique and while they will be similar to our pictures you should expect some variances in regards to shape, size, color, patterns, clarity and all other natural characteristics. We also want customers to be aware that even as top grade polished stones, some materials will polish smoother than others or contain minor imperfections which are completely normal in anything made from natural earth mined stones.