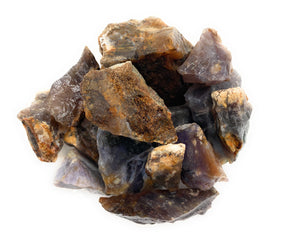 Purple Chalcedony Rough Stones from Indonesia
The Hypnotic Gems brand of Purple Chalcedony rough stones contain spectacular material from our partner mine in Indonesia. With your order you will receive a random scoop of high energy 100% natural stones similar to those shown in our images which will be equal to or greater than the weight purchased. The average size of each piece is around 1" to 3" for most of the stones, but it is possible to get pieces larger or smaller than these averages. These stones are perfect for tumbling, polishing, cutting, cabbing, teaching, reiki, crystal healing, or keeping in their natural form as a decorative rock!
Metaphysical Properties: Purple Chalcedony helps to provide emotional balance by providing a sense of calm, making it ideal for those who struggle with anxiety or mood swings. It encourages self-expression allowing one to more clearly communicate their thoughts and feelings. Purple Chalcedony enhances intuition and psychic abilities, allowing one to tap into their inner wisdom to make decisions with more clarity. In addition, it helps to stimulate creativity making it very useful for artists, musicians, writers and others in creative fields.
Please note that you are ordering 100% natural earth mined stones. Every piece is unique and all pieces received will not be the exact same size, shape, colors or look identical to the stones in our images. These stones are sold by total weight and not by number of pieces and the exact number of pieces you will receive may vary from our image. What we do guarantee is that every piece will be spectacular and contain a strong positive energy that can only be found in the Hypnotic Gems brand of stone.