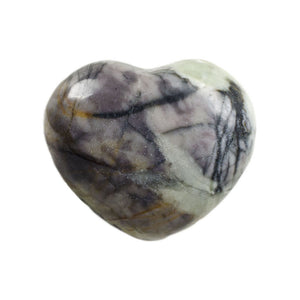 1 pc Premium Grade Silver Lace Agate Puff Heart - LARGE 1.75" Avg Size - Stone of Harmony & Strength
The Hypnotic Gems® brand of Premium Silver Lace Agate Puff Hearts start with high grade rough from specific mines which are carefully cut to form these beautiful large solid stone heart shapes. When you order you will receive one of these spectacular hearts similar to those shown in our images which are perfect to show your love for someone close to you, use as a paper weight, use for reiki, crystal healing, or as a spectacular decorative rock! Please note that these hearts are cut from 100% natural stones so every piece will be unique. We have three images that you can see by clicking to the left of the main picture showing some of the many variations which could occur in the natural stones you receive. While we can not guarantee every color or pattern will be in every piece, we can guarantee the heart you receive will be remarkable and contain a high energy which is only found in the Hypnotic Gems® brand of stones.

Metaphysical Properties: Silver Lace Agate has an antidepressant quality and is helpful to those with emotional issues, providing the ability to let go of their problems and allowing them to heal. It also helps to promote creativity and to think positively and find solutions instead of dwelling on everyday problems. Silver Lace Agate is very soothing and helps to stimulate the exploration of the unknown and furthers ones quest towards an enlightened state. It helps to bring unconditional love and peace to one's self by creating a sense of safety and security.