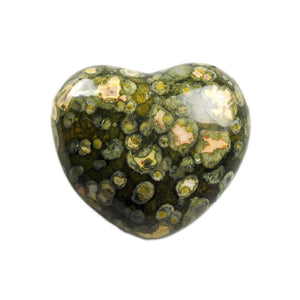 1 pc Premium Grade Rainforest Rhyolite Puff Heart - LARGE 1.75" Avg Size - Stone of Protection & Strength
The Hypnotic Gems® brand of Premium Rainforest Rhyolite Puff Hearts start with high grade rough from specific mines which are carefully cut to form these beautiful large solid stone heart shapes. When you order you will receive one of these spectacular hearts similar to those shown in our images which are perfect to show your love for someone close to you, use as a paper weight, use for reiki, crystal healing, or as a spectacular decorative rock! Please note that these hearts are cut from 100% natural stones so every piece will be unique. We have three images that you can see by clicking to the left of the main picture showing some of the many variations which could occur in the natural stones you receive. While we can not guarantee every color or pattern will be in every piece, we can guarantee the heart you receive will be remarkable and contain a high energy which is only found in the Hypnotic Gems® brand of stones.

Metaphysical Properties: Rainforest Rhyolite is a protective and balancing stone which is very helpful for those experiencing issues with self esteem and emotional strength. It helps to eliminate procrastination and distractions while allowing one to see the relationship between what is happening around them and what needs to be done. Rainforest Rhyolite helps to provide insight into alternate positive solutions to problems that have become difficult or unmanagable. It also helps with the creaive process and is an excellent stone for artists and musicians.