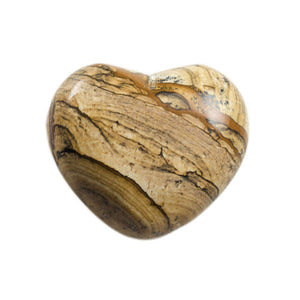 1 pc Premium Grade Picture Jasper Puff Heart - LARGE 1.75" Avg Size - Stone of Balance and Harmony
The Hypnotic Gems® brand of Premium Picture Jasper Puff Hearts start with high grade rough from specific mines which are carefully cut to form these beautiful large solid stone heart shapes. When you order you will receive one of these spectacular hearts similar to those shown in our images which are perfect to show your love for someone close to you, use as a paper weight, use for reiki, crystal healing, or as a spectacular decorative rock! Please note that these hearts are cut from 100% natural stones so every piece will be unique. We have three images that you can see by clicking to the left of the main picture showing some of the many variations which could occur in the natural stones you receive. While we can not guarantee every color or pattern will be in every piece, we can guarantee the heart you receive will be remarkable and contain a high energy which is only found in the Hypnotic Gems® brand of stones.

Metaphysical Properties: Picture Jasper is believed to be directly from Mother Earth to bring harmony, balance and positive energy to one's life. It stimulates creativity and bring the message of the past into the conscious mind. With this jasper one will have the confidence to move forward with courage and confidence. This stone is used frequently when starting a new business venture to alleviate the fear of failure. Jasper is known as the "supreme nurturer". It sustains and supports through times of stress, and brings one tranquility and wholeness. It is extremely protective and helps absorb negative energy clearing environmental and electromagnetic pollution, including radiation. Jasper aids in encouraging honesty with one's self and provides courage to assertively tackle one's problems. It re-energizes the body and helps during prolonged illness.