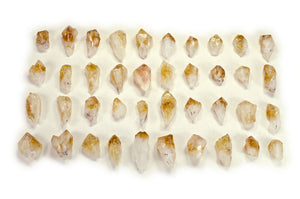 100 pcs Citrine Points - Small Size
The Hypnotic Gems® brand of Citrine Points you are ordering contains spectacular high energy citrine from a specific mine in Brazil. When you order you will receive random pieces from hundreds of pounds of these beautiful yellow points that we have equal to the number purchased. Each point has a very high energy and will be similar to those shown in our images. These amazing points are available here on our website in 10, 25, 50 and 100 piece lots. These stones are perfect for wire wrapping, jewelry making, tumbling, polishing, teaching, reiki, crystal healing, or keeping in their natural form as decorative rocks!

Metaphysical Properties: Citrine is an amazing stone that can provide numerous benefits. It is known as the "success stone" promoting success and abundance by assisting in both acquiring and maintaining wealth. It helps enhance both self esteem and self discipline allowing one to decisively make important decisions. It emits a warm and peaceful vibration outward to those nearby and can help overcome depression while opening the mind to intuition. Creativity is enhanced by Citrine as it activates one's imagination and helps those new creative thoughts to develop and mature. Citrine is highly protective and never needs cleansing or clearing.

IMPORTANT: Please note that you are ordering 100% natural earth mined stones. Every piece is unique and all pieces received will not be the exact same size, shape, color or look identical as seen in our images. Some points may have full terminations and others may have partial terminations or just color at the tip. What we do guarantee is that every piece will be spectacular and contain a strong positive energy that can only be found in the Hypnotic Gems® brand of stone.