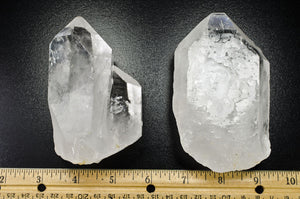 3 Pieces of Gigantic Clear Crystal Quartz Points - Nearly a full Pound Per Point
The Hypnotic Gems® brand of quartz points come from their own crystal quartz mine located in Minas Gerais Brazil. These are very large points which are perfect for crafts, education, collecting, keeping as beautiful natural specimens, or a number of other possibilities which are limited only by your imagination. These stones are unpolished and completely natural just as they came out of the ground. Please note that as completely natural stones they may contain inclusions, small dings, or other imperfections in some of the points you receive.

Clear Quartz is considered one of the most powerful and versatile healing stones among all crystal types. This material is able to work on any condition and also helps other stones magnify and amplify their power and energy. Clear quartz protects against negativity, helps to relieve pain and attunes one to their higher self. If one's aura is weak, clear quartz will help to strengthen the aura and enhance it's power. It helps with one's spiritual growth and is used to cleanse and align all of the chakras. Clear quartz can be programmed to emit its energies and magnify energetic vibrations all around it.