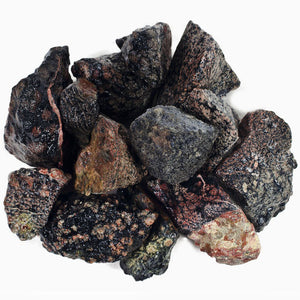 Red Snowflake Obsidian Rough Stones from Mexico
The Hypnotic Gems® brand of Red Snowflake Obsidian (also known as volcano glass) rough stones you are ordering contains spectacular material from an exclusive partnership with a specific mine in Mexico. When you order you will receive a random scoop of high energy 100% natural stones similar to those shown in our images which will be equal to or greater than the weight purchased. These stones are perfect for tumbling, polishing, cutting, cabbing, teaching, reiki, crystal healing, or keeping in their natural form as a decorative rock!

Metaphysical Properties: Snowflake Obsidian is a grounding and protective stone that balances the mind, body and spirit. It is often used for healing and removing negative energies such as anger, greed, jealousy and resentment. When a hectic situation presents itself at work or home Snowflake Obsidian helps to keep one centered and focused. Snowflake Obsidian helps in keeping others from taking advantage by aiding in clearer and more logical thinking. It will help reveal what needs to be changed in life to help one advance. While promoting a sense of calm, Snowflake Obsidian helps center the user which readies one for a deeper meditative state.

Please note that you are ordering 100% natural earth mined stones. As unpolished and untumbled stones these will likely have some sharp edges and we urge you to handle with care! Every piece is unique and all pieces received will not be the exact same size, shape, color or look identical as seen in our images. What we do guarantee is that every piece will be spectacular and contain a strong positive energy that can only be found in the Hypnotic Gems® brand of stone.