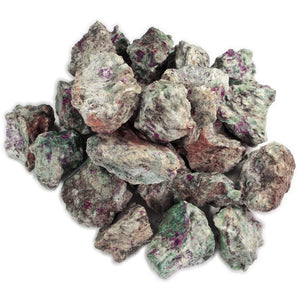 Ruby in Green Matrix Rough Stones from India
The Hypnotic Gems® brand of Ruby in Green Matrix Rough contains beautiful red rubies in a light to medium green matrix. This material comes from Hypnotic Gems partner mine in India and has an extremely strong positive energy with the matrix from this mine acting as an amplifier for the ruby. When you order you will receive a random scoop of these high energy 100% natural stones similar to those shown in our images which will be equal to or greater than the weight purchased. These stones are perfect for tumbling, polishing, cutting, cabbing, teaching, reiki, crystal healing, or keeping in their natural form as a decorative rock!

Metaphysical Properties: Ruby helps to enhance motivation and provides a zest for life in those who may be depressed or emotionally unaware. It promotes positivity and removes negative energies while also aiding in adding passion to one's life. The intense energy of ruby is unmistakable and it stimulates love and compassion, allowing one to open up and share these feelings which can lead pure love and bliss. Ruby encourages joy, laughter, and spontaneity while also helping to impart potency and vigor in one's life.

Please note that you are ordering 100% natural earth mined stones. Every piece is unique and all pieces received will not be the exact same size, shape, color or look identical as seen in our images. These stones are sold by total weight and not by number of pieces and the exact number of pieces you will receive may vary from our image. What we do guarantee is that every piece received will be spectacular and contain a strong positive energy that can only be found in the Hypnotic Gems® brand of stone.