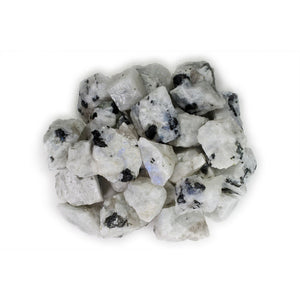 Rainbow Moonstone Rough Stones Mine Run from India
VERY IMPORTANT: Rainbow Moonstone only shows a blue flash when two conditions occur. The material must be cut or broken at the correct angle so the shiller is visible on the correct plane in the stones. Second, you must rotate the material to view it at the correct angle. This material you are ordering is mine run grade and has not been searched to see if the material has the proper angles to show a blue flash right out of the bag. While every piece can show the blue flash it will likely require tumbling, cabbing, or working the material to get the angles exactly perfect to see blue flashes.

The Hypnotic Gems® brand of Rainbow Moonstone rough stones you are ordering is from an exclusive partnership with a specific mine in India. With your order you will receive a random scoop of high energy 100% natural stones similar to those shown in our images which will be equal to or greater than the weight purchased. These stones are perfect for tumbling, polishing, cabbing, crystal healing, or keeping in their natural form as a decorative rock!

Metaphysical Properties: Rainbow Moonstone is associated with the moon and considered a very beneficial stone. It is a stone of insight and intuition which helps to balance one's emotions and calms feelings of aggression. Rainbow Moonstone also helps to encourage introspection making it easier to think rationally in any situation and make better decisions. It provides mental clarity freeing the mind to resolve issues which are normally overlooked due to a hectic everyday routine.

Please note that you are ordering 100% natural earth mined stones. Every piece is unique and will not be the exact same size, shape, or look identical to our images. These stones are sold by total weight and the exact number of pieces you will receive may vary from our image. What we do guarantee is that every piece will contain a strong positive energy that can only be found in the Hypnotic Gems® brand of stone.