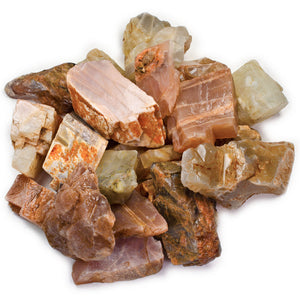 Earth Tone Moonstone Rough Stones from India
The Hypnotic Gems® brand of Earth Tone Moonstone rough stones you are ordering contains spectacular material from an exclusive partnership with a specific mine in India. The calming earth tones are perfect for wedding centerpieces or any other celebration. When you order you will receive a random scoop of high energy 100% natural stones similar to those shown in our images which will be equal to or greater than the weight purchased. These stones are perfect for tumbling, polishing, cutting, cabbing, teaching, reiki, crystal healing, or keeping in their natural form as a decorative rock!

Metaphysical Properties: Moonstone has a calming energy vibrating with the feminine wisdom of the waxing and full moon. It brings balance and harmony and helps those seeking to embrace the Goddess within. It is a soothing stone for both males and females and helps to relieve stress in everyday life. Moonstone gives one the ability to have greater flexibility and flow with life. It reminds us of our own self worth and invokes sensuality and passion. The stone can also help those with difficulty sleeping have regular sleep patterns and alleviate nightmares. This stone becomes more powerful as the moon becomes full and is least powerful as the moon wanes.

Please note that you are ordering 100% natural earth mined stones. Every piece is unique and all pieces received will not be the exact same size, shape, colors or look identical as seen in our images. These stones are sold by total weight and not by number of pieces and the exact number of pieces you will receive may vary from our image. What we do guarantee is that every piece will be spectacular and contain a strong positive energy that can only be found in the Hypnotic Gems® brand of stone.