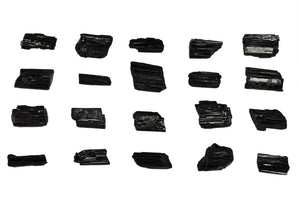 10 pcs Black Tourmaline Rods - 0.75 inch length
The Hypnotic Gems® brand of Black Tourmaline uses only the finest quality high energy rough from a specific mine in Brazil. This material is hand selected to make sure that every piece is spectacular with a high gloss shine and strong energy. The sizes are hand measured and the stones you are purchasing are roughly 3/4 inch in length.

Black Tourmaline is a protective stone blocking and neutralizing negative energy. It also has a calming effect acting as a grounding stone while removing fear and boosting self confidence. This stone will aid in concentration and communication and remove negativity and stress from constant worrying. With Black Tourmaline one's own psychic energies are amplified, and it aids against psychic attack from others. These stones offer protection against electromagnetic noise caused by devices like cell phones and computers.

Please note that as earth mined stones every piece is unique and there will be some varience in the stones you receive compared to our images. All pieces will not be the exact same size or shape and we did our best to show a large variety of pieces in our pictures. What we do guarantee is that every piece will be spectacular and contain a strong positive energy that can only be found in the Hypnotic Gems® brand of stones.