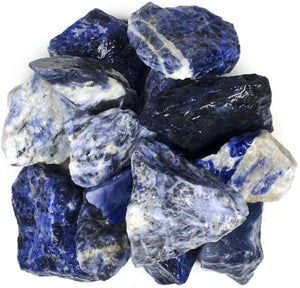 Sodalite Rough Stones from Brazil - "AA" Grade
The Hypnotic Gems® brand of Sodalite rough stones you are ordering contains spectacular material from an exclusive partnership with a specific mine in Brazil. When you order you will receive a random scoop of high energy 100% natural stones similar to those shown in our images which will be equal to or greater than the weight purchased. These stones are perfect for tumbling, polishing, cutting, cabbing, teaching, reiki, crystal healing, or keeping in their natural form as a decorative rock!

Metaphysical Properties: Sodalite is a stone that increases ones understanding of self. It aids with increasing intelligence, knowledge, self worth, self acceptance, self esteem, and helps one to stand up for their beliefs. In addition, Sodalite can aid in ending arguments where communication has become an issue by providing an honest communication of emotions in a calm manner. Sodalite helps build confidence and encourages discipline by helping achieving emotional balance. This can be very helpful in business when one needs to come up with positive ways to deal with daily issues that may arise.

Please note that you are ordering 100% natural earth mined stones. Every piece is unique and all pieces received will not be the exact same size, shape, color or look identical as seen in our images. What we do guarantee is that every piece will be spectacular and contain a strong positive energy that can only be found in the Hypnotic Gems® brand of stone.