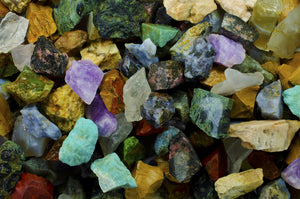 26 Stone Mix From Madagascar
The Hypnotic Gems hand packed Extraordinary Mix from Madagascar includes at least 24-26 different stone types in every single bag giving this mix the best variety of any Madagascar rough stone mix on the market today! You aren't taking a random chance at hopefully getting large variety since each bag includes a minimum of 24-26 stone types every time!

In every bag you may receive: Amazonite, Amethyst, Neon Blue Apatite, Green Opal, Indigo Gabbro, Sea Jasper, Agate, Blue Calcite, Carnelian, Chestnut Jasper, Chrysocolla, Crocodile Jasper, Clear Quartz, Desert Jasper, Epidote in Matrix, Fire Quartz, Girasol, Hematite, Labradorite, Orange Calcite, Petrified Wood, Rhodonite, Rose Quartz, Septarian, Yellow Jasper and Zebradorite! For some materials you may receive more than one piece to equal the total weight purchased.

The material Hypnotic Gems uses aren't just scrap stones but are quality mined stones from specific veins. To save on costs other manufacturers just use whatever scraps are laying around and it is possible to get a lot of dull stones. With the Hypnotic Gems hand bagging production line, you will only receive quality stones which are perfect for tumbling, cabbing, metaphysical, decorations, crafts and any other purpose which is limited only by your imagination!

Please note that these are natural earth mined stones and every piece of material is unique. All pieces received will not be the exact same size, shape, color or look identical to our images. What we do guarantee is that every piece will be spectacular and contain a strong positive energy that can only be found in the Hypnotic Gems brand of stones.