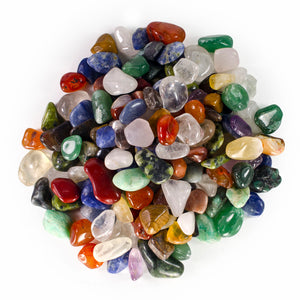 Natural Tumbled Stone Mix - 100 Pcs - Extra Small Size - 0.50" to 0.75" Avg.
This is a beautiful mix of all-natural (undyed) Tumbled Stones from the Polones e Brilho tumbling factory in Brazil. Each bag contains a random assortment of tumbled stones including but not limited to the stones on this list:

* Clear Quartz - Stone of Power; Raises Consciousness towards Enlightenment and Purifies on All Levels.
* White Quartz - Crown Chakra, Purity, Hope.
* Rose Quartz - Unconditional Love for Self and others.
* Amethyst - Opens Intuition; Enhances Psychic Gifts and Higher State of Consciousness.
* Citrine - Manifests Abundance; Transmutes Negative Energy; Energizes; Heightens Self Discipline.
* Sodalite - Stone of Truth; Good for Group Communication and Verbalization of Feelings.
* Blue Quartz - Activates the Throat Chakra to speak what's on your mind; Helpful in finding diplomacy in necessary situations.
* Brecciated Jasper - Promotes Strength and Vitality; Sustains and Supports in Times of Stress.
* Hematite - Emotional Protection, Assists with Grounding and Helps to Maintain Boundaries.
* Yellow Jasper - Strength, Vitality, Protection While Traveling.

... and many more.

Please note that you may not receive every stone type listed above and you may receive some stone types that aren't listed. In addition you will some duplicate stone types in your assortment which is normal for this 100 piece mix.