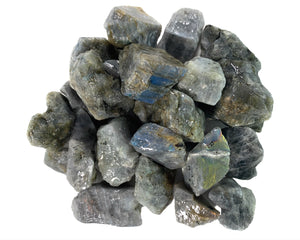 Labradorite Rough Stones from Madagascar
The Hypnotic Gems brand of Labradorite rough stones you are ordering contains spectacular material from an exclusive partnership with a specific mine in Madagascar. When you order you will receive a random scoop of high energy 100% natural stones similar to those shown in our images which will be equal to or greater than the weight purchased. These stones are perfect for tumbling, polishing, cutting, cabbing, teaching, reiki, crystal healing, or keeping in their natural form as a decorative rock!

Metaphysical Properties: Labradorite is a stone of transformation and change which helps to promote feelings of inner worth. It is highly mystical and heightens intuition and enhances psychic ability while protecting against negative energies. Labradorite is used to balance and strengthening the aura, while also sealing it to protect it from energy leaks. It also helps when facing a challenge by providing strength and perserverance until success, and is especially useful when dealing with an addiction or trying to break unhealthy habits.

** VERY IMPORTANT: The following applies to ALL labradorite and explains the color flash works and how it forms in nature. The Labradorescence effect (also called schiller effect) that you see in our images only occurs when the stones are both fractured at the correct angles and viewed from the correct angles. Since you are ordering a mine run material that has not been searched, your stones may or may not have fractured at an angle where this effect is visible. While every piece can show this effect, the angles must be correct to see it and you may have to cab, polish, or work the stones in some way so the proper angles are showing. Please contact Hypnotic Gems prior to purchase if you have questions about labradorescence and the beautiful color flash this material can show.