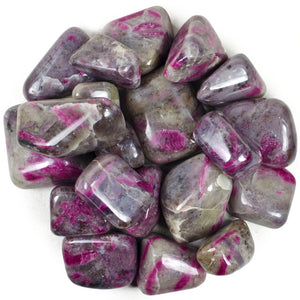 Top Grade Hand Polished Ruby in Feldspar from India - Avg 1" to 1.25"
The Hypnotic Gems® brand of hand polished Ruby in Feldspar uses only the finest quality high energy rough from a specific partner mine in India. These stones are not tumbled in bulk but are hand polished one stone at a time to get the best possible finish and to maximize the stones energy. It is this special one stone at a time attention that gives these stones from Hypnotic Gems® their spectacular beauty!

Metaphysical Properties: Ruby helps to enhance motivation and provides a zest for life in those who may be depressed or emotionally unaware. It promotes positivity and removes negative energies while also aiding in adding passion to one's life. The intense energy of ruby is unmistakable and it stimulates love and compassion, allowing one to open up and share these feelings which can lead pure love and bliss. Ruby encourages joy, laughter, and spontaneity while also helping to impart potency and vigor in one's life.

Please note that as earth mined stones there may be some small imperfections or blemishes that can still show even after being hand polished. While these are minimal compared to bulk tumbled stones, due to natural characteristics of the rough stones some materials may still have a minor flaw after polishing. Every piece is unique and all pieces received will not be the exact same size, shape, color or look identical as seen in our images. Our images show a large quantity of these stones so you can see many of these possible variations. These stones are sold by weight and not number of pieces so the number of pieces you will receive is based on the weight purchased and not the quantity shown in the image. What we always guarantee is that every piece will be spectacular and contain a strong positive energy that can only be found in the Hypnotic Gems® brand of tumbled stone.