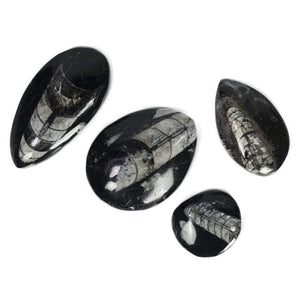 1 pc of Orthocaras Fossil Specimens - 1.5" to 2" Average Size Polished Superior Grade Fossils
The Hypnotic Gems® brand of fossils are imported directly from Morocco and hand checked in the USA by our paleontologist. The pieces are sorted by quality and only the top grade pieces are approved to be part of our exclusive Hypnotic Gems Gallery. Each piece averages 1.5" to 2" and is perfect for collecting, displaying or for education and teaching.

These specimens are remarkable and have been polished to show the long fossilized "shell" of the orthoceras, which are the remains of an extinct marine animal with a long conical shape. These invertebrates populated warm shallow seas from the middle of the Ordovician Period to the Devonian Period which took place from around 470 to 500 million years ago. They are a genus of extinct nautiloid cephalopod which is sometimes called orthoceratites.

Metaphysical Properties: Fossils are believe to have numerous metaphysical properties including increasing life span, along with reducing anxiety, stress, and balancing one's emotions. Having fossils near is also believed by many to lower toxins in the body. Fossils help to promote a sense of pride and help with bringing success in business and other financial ventures. Fossils are used by healers and shaman to stimulate the mine and enhance telepathic abilities.