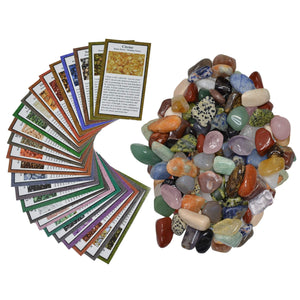 Tumbled Stone Assorted Mix from Brazil with Information Cards - Small Size - .75"-1" Average
Your order will contain natural stones from Brazil that have been carefully tumbled and polished in the Polones e Brilho factory (Manufacturer Part Number PEB-CRD). This mix also includes stone information and identification cards for every stone type you receive. The average size of most stones you receive will be between .75"-1" but it is possible to find some stones in your order which may be larger or smaller than these measurements

The mix that you receive will contain many of the following stone types in every bag: Amazonite, Amethyst, Black Onyx, Black Tourmaline, Blue Quartz, Bronzite, Carnelian, Cat's Eye Agate, Citrine, Clear Quartz, Dalmatian Jasper, Emerald, Feldspar, Green Aventurine, Green Jade, Hematite, Milky Quartz, Nephrite Jade, Red Aventurine, Red Jasper, Red Striped Dolomite, Rose Quartz, Smokey Quartz (multiple shades), Sodalite, Sulpher Quartz, Tiger Eye and Yellow Jasper

These stones are perfect for jewelry, crafts, home decor, education, and many other purposes limited only by your imagination.

Please note that some stone types look similar even though they are different materials, such as Black Tourmaline, Black Onyx, and Dark Smokey Quartz which are all different stone types but have a similar appearance.
Polones e Brilho makes each bag with every material type we have in stock being added by hand in a production line instead of mixing them in bulk and blindly scooping the stones. This helps to ensure that in almost every case you will receive at least 17 different stone types in your mix. Each material type tumbles differently due to their natural characteristics and some material types may tumble smoother or have a better shine and luster, while others may show some pits, divots or other imperfections in the finished stones.