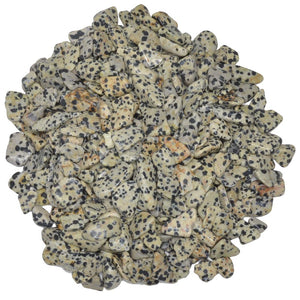 Tumbled Dalmatian Jasper - Grade 1 – Extra Small - .5"to .75" Avg.
Dalmatian Jasper Tumbled Stones - Grade 1
 The Hypnotic Gems brand of tumbled stones uses only the finest quality high energy rough from specific mines. They are tumbled using a specialized proprietary technique in our own tumbling factory. This technique increases the stones energy and gives the stones from Hypnotic Gems their spectacular beauty!
 Metaphysical Properties: Dalmatian Jasper helps in moving forward in life and discovering one's true purpose for being here. It helps to remove internal walls that have been created and allows for the openness of experiencing new things and growing as a person. At the same time this stone relieves negative feelings and removes the need to take revenge on those who have done you harm. The black dots in the stone are tourmaline which helps enhance the stones ability to encourage positive attitudes. This also brings good luck and happiness while reducing any sense of discouragement. The tourmaline in this stone also helps assist you in sleeping free from nightmares.
 Stone Grading and Sizes: The Hypnotic Gems factory produces 8 sizes of tumbled stones in 3 grades for most material types. Grade is determined by multiple factors including color depth, shine, luster and polish relative to other stones of the same material type. You can select the material type, grade and quantity to purchase from this listing or search on eBay to see all the sizes offered.
 Please note that as natural earth mined stones there can be some imperfections, chips or blemishes that are still be present after being tumbled regardless of grade. The number of pieces and sizes listed are only averages. It is possible to get smaller or larger stones than the average resulting in more or less individual pieces. Every piece is unique and all pieces will not be the exact same size, shape, color or look identical to the stones in our images, but will be spectacular containing a strong positive energy that can only be found in the Hypnotic Gems brand of tumbled stone.
 Each and every specimen is unique and you will receive stones similar to the image shown which are perfect for crafts, decoration, vases, reiki, energy crystal healing and a number of other possibilities limited only by your imagination!
 Includes authentic Hypnotic Gems stones and information card - tumbled with our proprietary polishing techniques in the Hypnotic Gems tumbling factory!