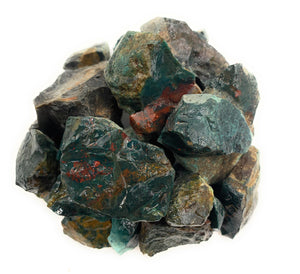 Bloodstone Rough Stones from Indonesia
The Hypnotic Gems brand of Bloodstone rough stones contain spectacular material from our partner mine in Indonesia. With your order you will receive a random scoop of high energy 100% natural stones similar to those shown in our images which will be equal to or greater than the weight purchased. The average size of each piece is around 1" to 2.5" for most of the stones, but it is possible to get pieces larger or smaller than these averages. These stones are perfect for tumbling, polishing, cutting, cabbing, teaching, reiki, crystal healing, or keeping in their natural form as a decorative rock!
Metaphysical Properties: Bloodstone is a warm and calming stone which enhances the mind, bringing clarity and understanding to unfamiliar subjects. It helps bring a loving feeling into any situation, grounding the negative energies that cause conflict. This can assist in the revitalization of a struggling relationship by promoting pure unconditional love. Bloodstone helps create a consistent and smooth energy flow throughout one's body. This energy removes fatigue while improving focus, strength, and spiritual intuition which allows one to enjoy life and live in the moment.
Please note that you are ordering 100% natural earth mined stones. Every piece is unique and all pieces received will not be the exact same size, shape, colors or look identical to the stones in our images. These stones are sold by total weight and not by number of pieces and the exact number of pieces you will receive may vary from our image. What we do guarantee is that every piece will be spectacular and contain a strong positive energy that can only be found in the Hypnotic Gems brand of stone.