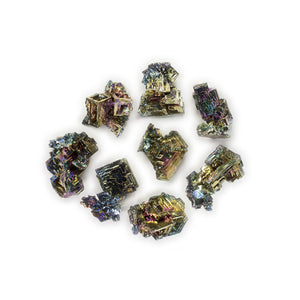 1 pc of Giant Bismuth Crystals - Avg 1.5" - 2.5" - Includes Hypnotic Gems Bismuth Information Card
The Hypnotic Gems® brand of Bismuth is lab assisted by heating natural Bismuth which causes the element to form unique crystaline shapes as it cools - all which is done right here in the USA. These beautiful unique crystals are formed as they float to the top of a quickly cooled bismuth melt, with the spectacular iridescent colors being caused by intentional oxidation during this cooling. Bismuth is scarcer than silver, heavier than lead, and is considered a semi-precious metal. When you order you will receive random pieces of these beautiful bright and colorful stones similar to those shown in our images which will be equal to the number purchased. These stones are perfect for teaching, reiki, crystal healing, or keeping in their natural form as a spectacular decorative rock!

These beautiful specimens from Hypnotic Gems® are available in both large and giant sizes here on our website.

Metaphysical Properties: Bismuth helps to calm feelings of loneliness and isolation. It helps to ground one while raising awareness of the world around them and providing a calming presence during meditation. Bismuth helps one to adapt to new surroundings or circumstances by promoting calmness even under stress or pressure. When in a group or around many others Bismuth also helps forge bonds and assists with group dynamics allowing the group to function more cohesively.

Please note that every piece is unique and all pieces received will not be the exact same size, shape, have the same colors or look identical to those pictured in our images. What we do guarantee is that every piece will be spectacular and contain a strong positive energy that can only be found in the Hypnotic Gems® brand of stone.