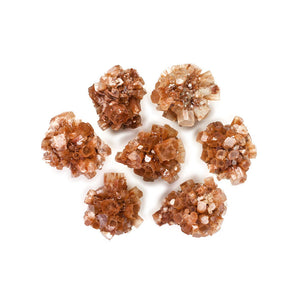 5 pcs Beautiful Aragonite Crystal Specimens - Avg 1.75" to 2" - Raw Natural Aragonite Stone Specimens
The Hypnotic Gems® brand of natural Aragonite Crystal Specimens you are ordering contains spectacular hand graded specimens from an exclusive partnership with a specific mine in Morocco. With your order you will receive 5 random pieces of these high energy 100% natural stones similar to those shown in our image. These stones are spectacular premium quality specimens with an amazing energy that anyone would be proud to own!

Metaphysical Properties: Aragonite is a stone of the Earth which encourages the preservation of the planets natural wonders and natural resources. It promotes focus which makes it very helpful for students or those working in fields that take a lot of concentration. Aragonite helps those who need to resolve and let go of issues from their past to move into the future. It calms and centers allowing one to remain calm even in the most stressful and difficult circumstances while promoting generosity and personal growth.

Please note that you are ordering 100% natural earth mined stones. Every piece is unique and all pieces received will not be the exact same size, shape, colors or look identical as seen in our images. These stones are sold by total number of pieces and you will receive the number of pieces that you order all which average around 1.75" to 2" in size. As with all Hypnotic Gems® stones there is a guarantee is that every piece will be spectacular and contain a strong positive energy that can only be found in the Hypnotic Gems® brand of stone.