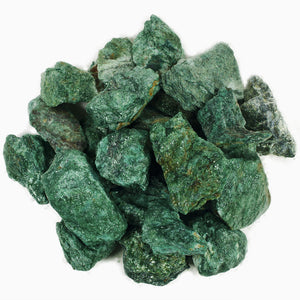 Fuchsite Rough Stones from Brazil
The Hypnotic Gems® brand of Fuchsite rough stones you are ordering contains spectacular material from an exclusive partnership with a specific mine in Brazil. When you order you will receive a random scoop of high energy 100% natural stones similar to those shown in our images which will be equal to or greater than the weight purchased. These stones are perfect for tumbling, polishing, cutting, cabbing, teaching, reiki, crystal healing, or keeping in their natural form as a decorative rock!

Metaphysical Properties: Fuchsite is a material known for its ability to rejuvenate and bring out one's inner child. It brings back the vitality from youth no matter what age and reminds us that this vitality is a state of mind. Fuchsite helps to achieve mental and emotional balance and brings tranquility to the user. It helps to bring a greater sense of compassion and understanding when facing stressful interactions with others. Fuschite is also a multiplier and when used with other crystals it will intensify both the effects of the other crystals and also it's own abilities will be enhanced and strengthened.

Please note that you are ordering 100% natural earth mined stones. Every piece is unique and all pieces received will not be the exact same size, shape, color or look identical as seen in our images. What we do guarantee is that every piece will be spectacular and contain a strong positive energy that can only be found in the Hypnotic Gems® brand of stone.